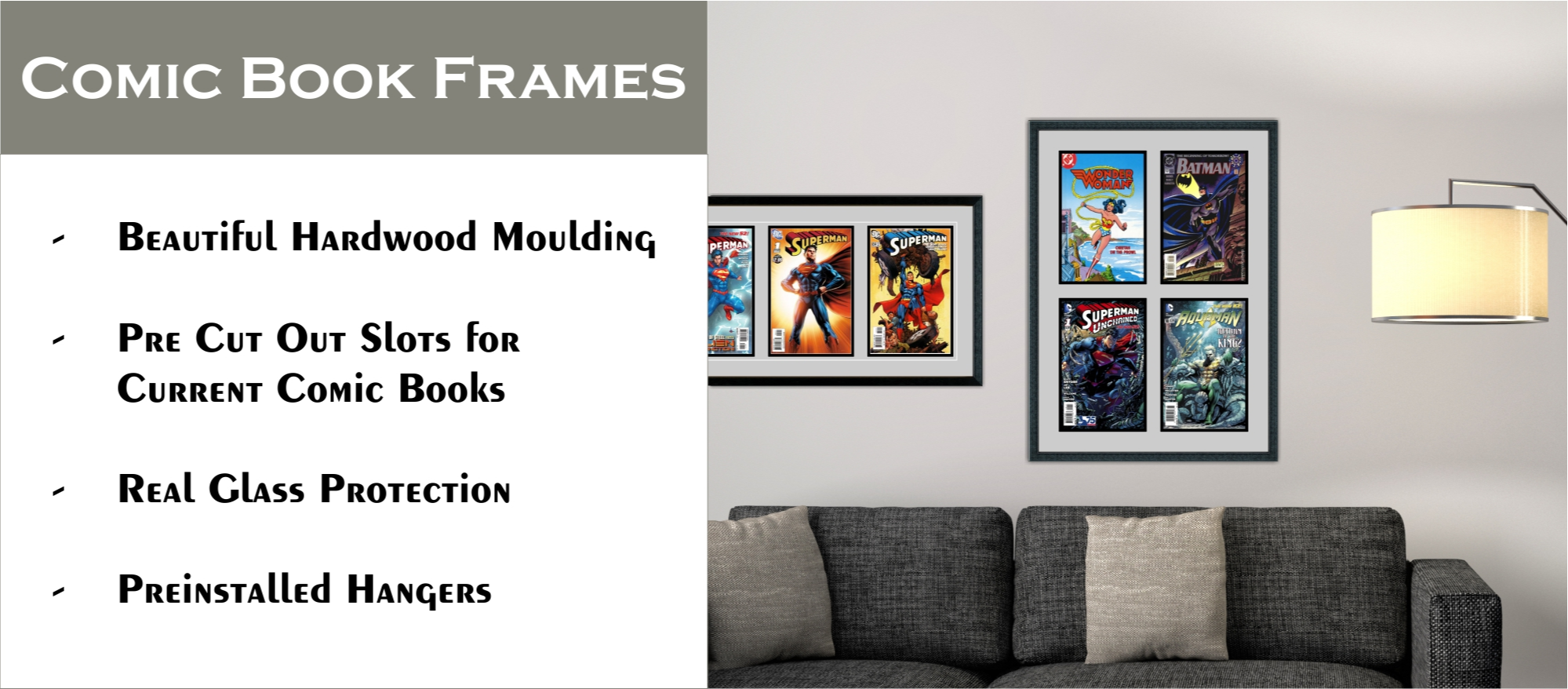 From priceless first editions to the issues you've treasured since childhood, comic books are meant to be read, enjoyed, and, perhaps most of all, displayed. Our selection of comic book frames is made to showcase your collection with the highest quality materials, craftsmanship, and attention to detail.
Frames for Modern Age Comics
---
Frames for Graded Comic Books
Protect Your Collection
As all true comic book aficionados know, an excellent comic book frame isn't just about showcasing your collection: it's also about protecting it. Shield your comic books from dust, water damage, and other environmental factors by choosing high-quality, museum-grade glass with UV protection.
Want to protect the cover art even further? Customize your comic book display with conversation glass that offers 99% UV protection.
Quality You Can Trust
At Perfect Cases and Frames, we believe in helping you showcase your favorite collectors' items with the utmost precision and authentic, quality materials. That's why we offer a complete satisfaction guarantee on all of our displays, prints, gifts, and frames.
The Perfect Design
Everything we do is designed to show off your comic books with simplicity and style.
Our comic frames feature stunning hardwood molding, made right here in the USA. Pre-cut-out slots for comics make displaying your collection simpler than ever, while pre-installed hangers make putting your frame up easy. Because we use real glass on our comic book displays, you're able to enjoy your collection with unbeatable crystal-clear clarity.
Preserve Your Comics Beautifully
Turn your prized issues into something you can share with guests using our comic book frames. For help finding the ideal design or for questions about our current inventory and personalization options, we encourage you to reach out to our team.
"Frame was exactly what i was looking for. Great quality and fantastic service. They were able to expedite a request and ship it to me in a very small time frame. It was very much appreciated and I will definitely use them again in the future."
Michael Tuminello
May 24, 2018
"Nice product, well made, fit my needs perfectly"
Mike Browne
Oct 17, 2018
"Frame looks good and is well-made; feels sturdy. Mat is clean and looks nice. Very very very satisfied, with how good the frame looks and how quickly it arrived."
Demetrios Xenikakis
Nov 12, 2018