Proudly showcase your autographed baseballs. Our Triple Baseball Display Case is the perfect way to display your 3 baseballs while keeping your autographs safe. This display case is made with mirror on the bottom and back to give a full view of your balls. This case is UV protected and is supported by real wood moulding. Our adhesives contain no acids that may deteriorate signatures. This case also comes with three clear acrylic rings to support your baseballs.
Triple Baseball display case. It comes standard with mirror on the back and bottom panels.
We uses high quality glass with crystal clear clarity. Our Regular Glass offers 50% UV Protection. You can now upgrade this baseball case to include 99% UV Protection.
We offer 5 moulding choices and several suede color options for the bottom. Add engraving to personalize this display case.
Our table top display cases are designed for the case to lift off of the base.
This also includes soft felt tabs on bottom to prevent damaging any furniture.
Inside Dimensions: 10"wide x 4"deep x 4"high
The glass portion of the baseball display case lifts off of the base. This baseball case comes with 3 clear acrylic holders.
One of the best reasons to choose glass over acrylic is how easy it is to clean. Simply use any Glass Cleaner preferably with a lintless cloth. Spray on the cloth first, then apply to the glass. Touch the corners when handling to avoid fingerprints.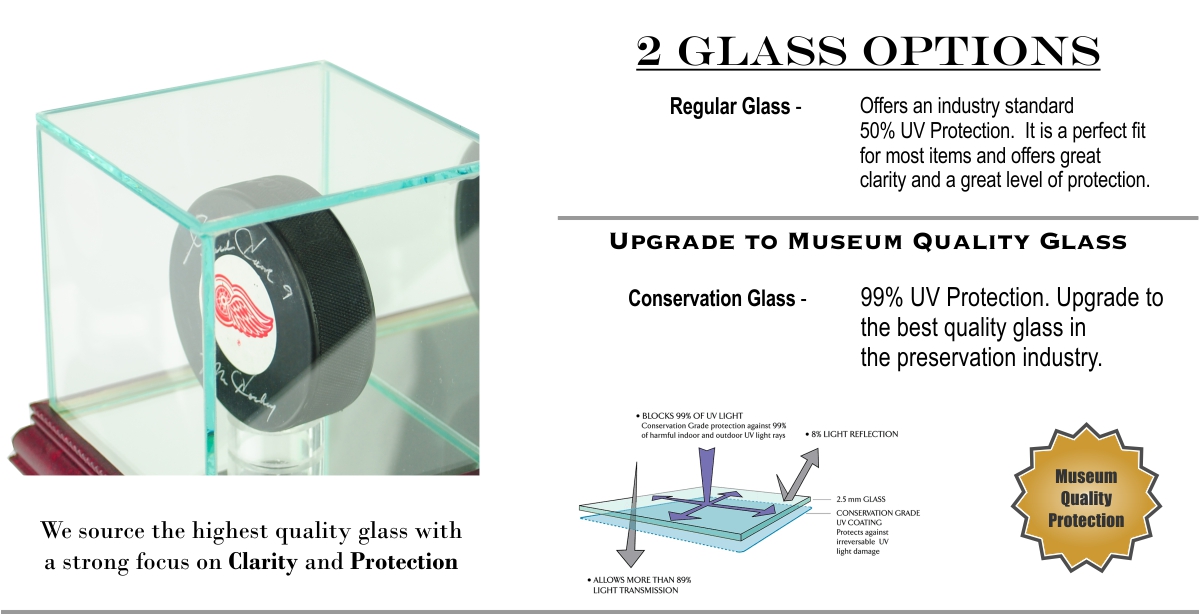 Perfect Cases and Frames had the perfect fit!

The team at Perfect Cases and Frames helped me select a display that is just the right size to, not only beautifully showcase the grail of my collection, but also protect it from damaging dust and UV rays so I can continue to enjoy it for years to come. Thank you!

Everything perfect. Thank you.

The display case arrived quickly after ordering, packaged securely .

I ordered the 3 baseball display case because I want to display 2 baseballs + a card. It worked out beautifully. It is a beautifully made case.

The triple baseball case was completed as described. The inscriptions were perfect as was the entire case. The case was shipped in a timely manner and arrived in perfect condition. I have ordered from Perfect Cases in the past and will continue to do so since their products are of a high quality and always perfect for display of a baseball, bat, football or other item.

The case arrived on time and the engraving was perfect. Thank you

These guys are great to deal with. I always like giving them my business because I feel like it really matters with them! Thanks! Sean

Beautiful and well crafted, very happy with my purchase

These cases are very well made and also can made to your Specifications I have purchased over 25 cases in the last 4 years and never had a problem with them and the customer communication is excellent I highly recommend this company Thank you.