Description
Moulding Color and Profile of your choice
Your choice of 2 matboard colors
A cutout for your tassel
Sturdy Foam Core backing and plenty of framing points to prevent warping
High quality glass front with crystal clear clarity. Our Regular Glass offers 50% UV Protection. You can now upgrade this football case to include 99% UV Protection.
Preinstalled Hangers
Rubber bumper backing to prevent wall damage
Approximate Outside Dimensions:

For 8.5 x 11 Diploma - 22 x 16.5
For 11 x 14 Diploma - 25 x 19
For 17 x 14 Diploma - 28 x 22
Carefully remove protective plastic wrap. Place bubble wrap on flat surface and set the frame face down on the bubble wrap sheets. Use a flat head screw driver to pry back all the black points. Remove the Foam Core and Double Matting. With the foam board on a flat surface, place your diploma on top. The matboard will then go over the diploma. Square everything up and carefully tape the diploma to the foam board. Take the matboard and foam board together and place it back into the frame. Bend all of the points back to its original position. Remove the backing for your tassel. Place your in front of the backing and run the string through the groove and tape the excess to the back. Place the tassel backing back in its original spot and your diploma frame is ready to hang.
One of the best reasons to choose glass over acrylic is how easy it is to clean. Simply use any Glass Cleaner preferably with a lintless cloth. Spray on the cloth first, then apply to the glass. You can use the same cloth to wipe down your diploma frame.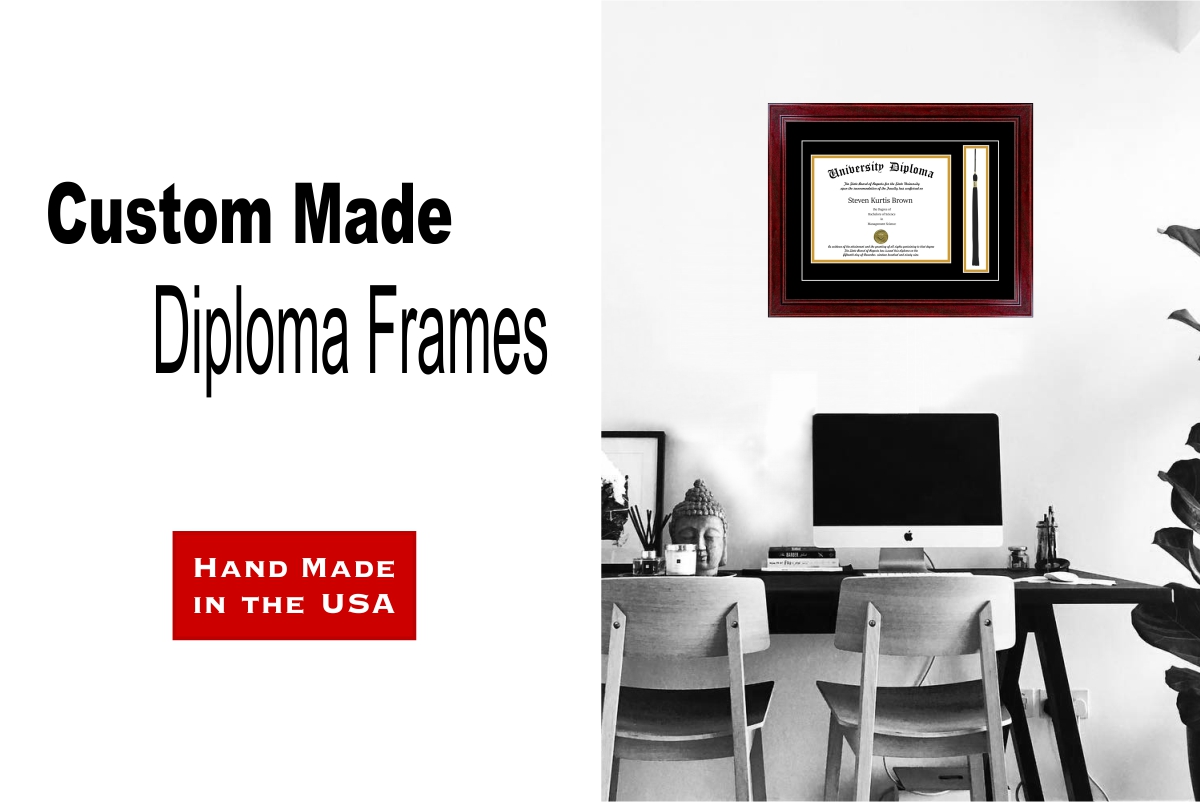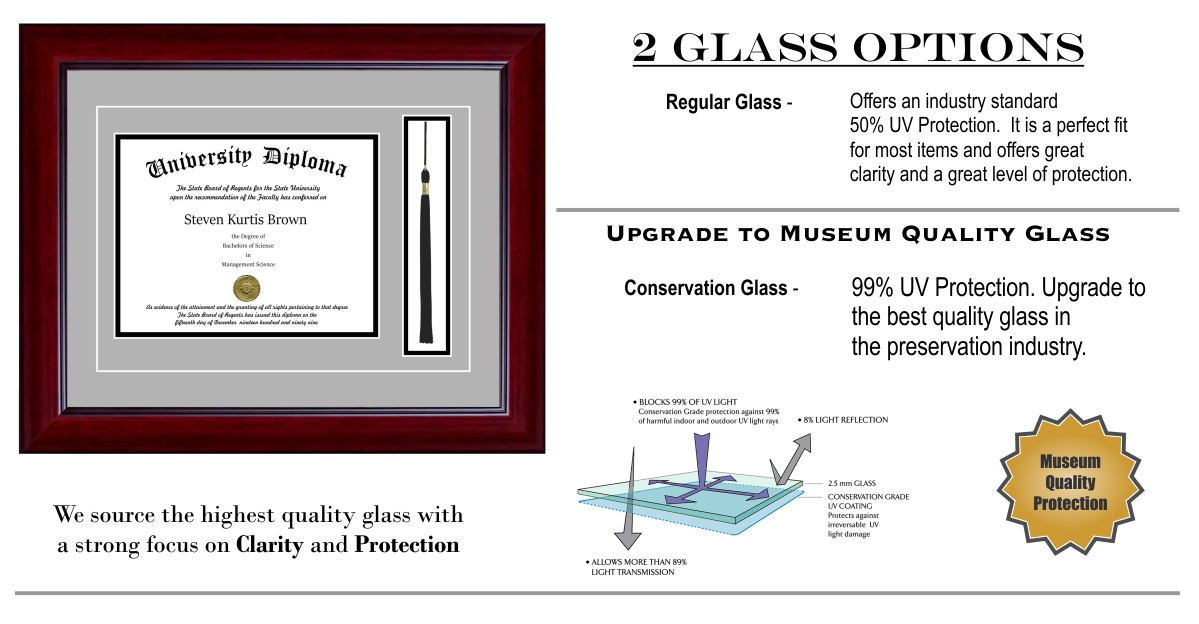 Crystal Clear Glass
Sturdy Foamboard Backing
Preinstalled Hangers
Bump On to
Protect Wall


Product Reviews (30)
My daughter lives out of state but wanted to agree on a frame for her diploma. We went on zoom snd decided on the frame together. Your website made it easy to navigate. We decided on school colors versus the boring cream or white and are thrilled. The diploma really pops out of the frame. Can't wait to order more frames from you! For our future master graduate.

Our frame was perfect. Right color and craftsmanship was excellent. Thank you!

Excellent service, definitely will be buying again from that Company. Good quality frames.

Very satisfied. Put together well and very good presentation.

Had an issue where the frame was received with damaged glass, and the entire order was replaced without hesitation or headache. Really appreciated the quick response and ease of dealing with customer service.

Black Frame for Diploma with...

I'd really like to Thank Perfect Cases and Frames for providing us with a beautiful diploma frame for my daughter who just graduated from The University of Arizona. The border colors were spot on and the frame looks awesome. On a side note, Thank You Steve for understanding our situation when miss ordering 2 frames instead of one. I appreciate your customer service and excellent quality product. Highly recommend Perfect Cases and Frames. Steve Roser

Diploma Frame with Tassel

I like the presentation of it but was a little surprised that it was a bigger than what I expected. But overall, I cannot complain. Great value for its price.

Love these

I've ordered several cases in the past, and loved them all, this frame is no different!! Looks great!