Our custom display frames are professional and high-quality. These diploma display cases are just what a graduate needs to proudly display their hard-earned achievement on any wall. With nine different layouts and a wide selection of hardwood moldings, you're sure to find the perfect options to make your frame extra personal.
Select from 9 Standard Layouts
Choose from our wide selection of beautiful hardwood mouldings
Enter your diploma size
Choose your matboard colors
Pick your glass protection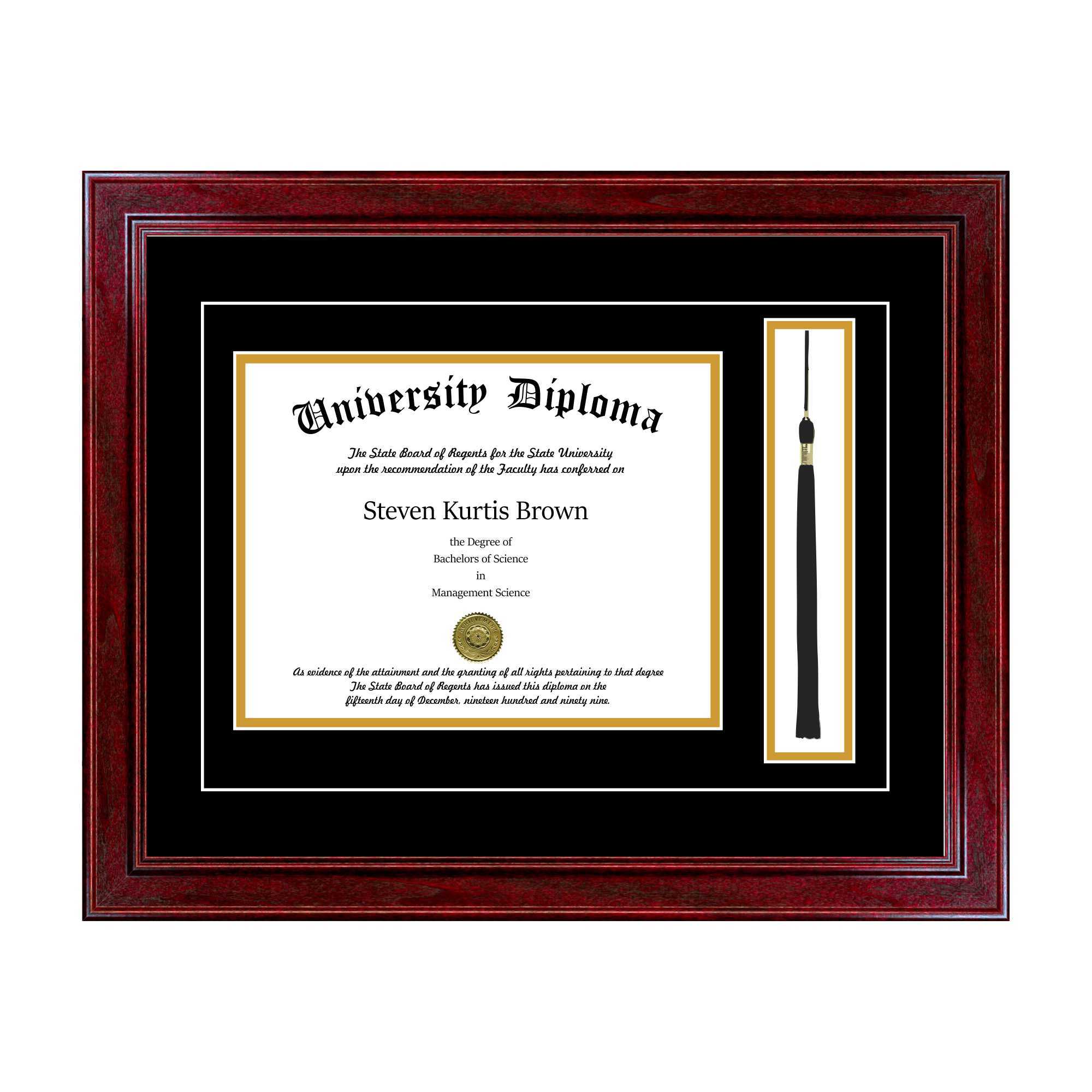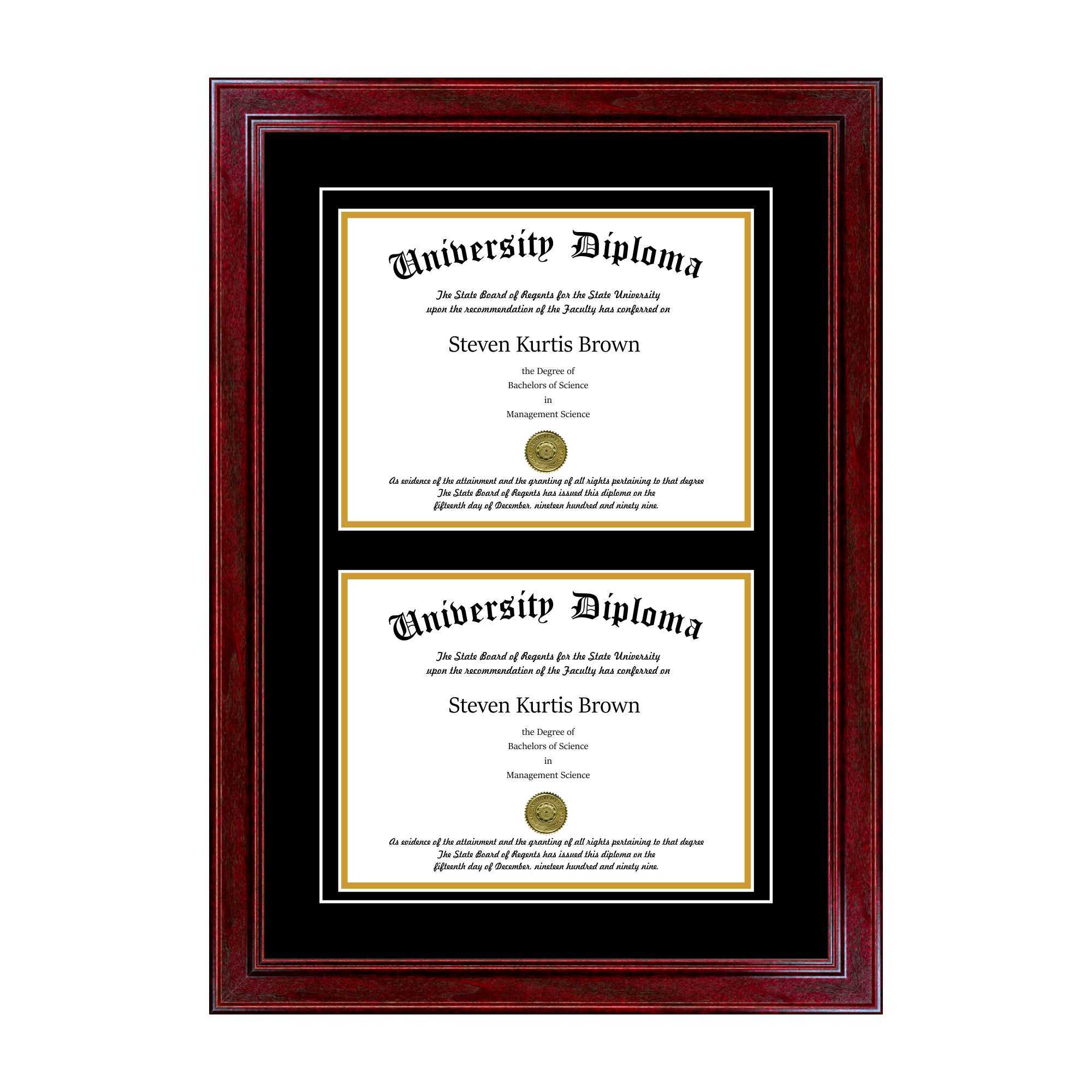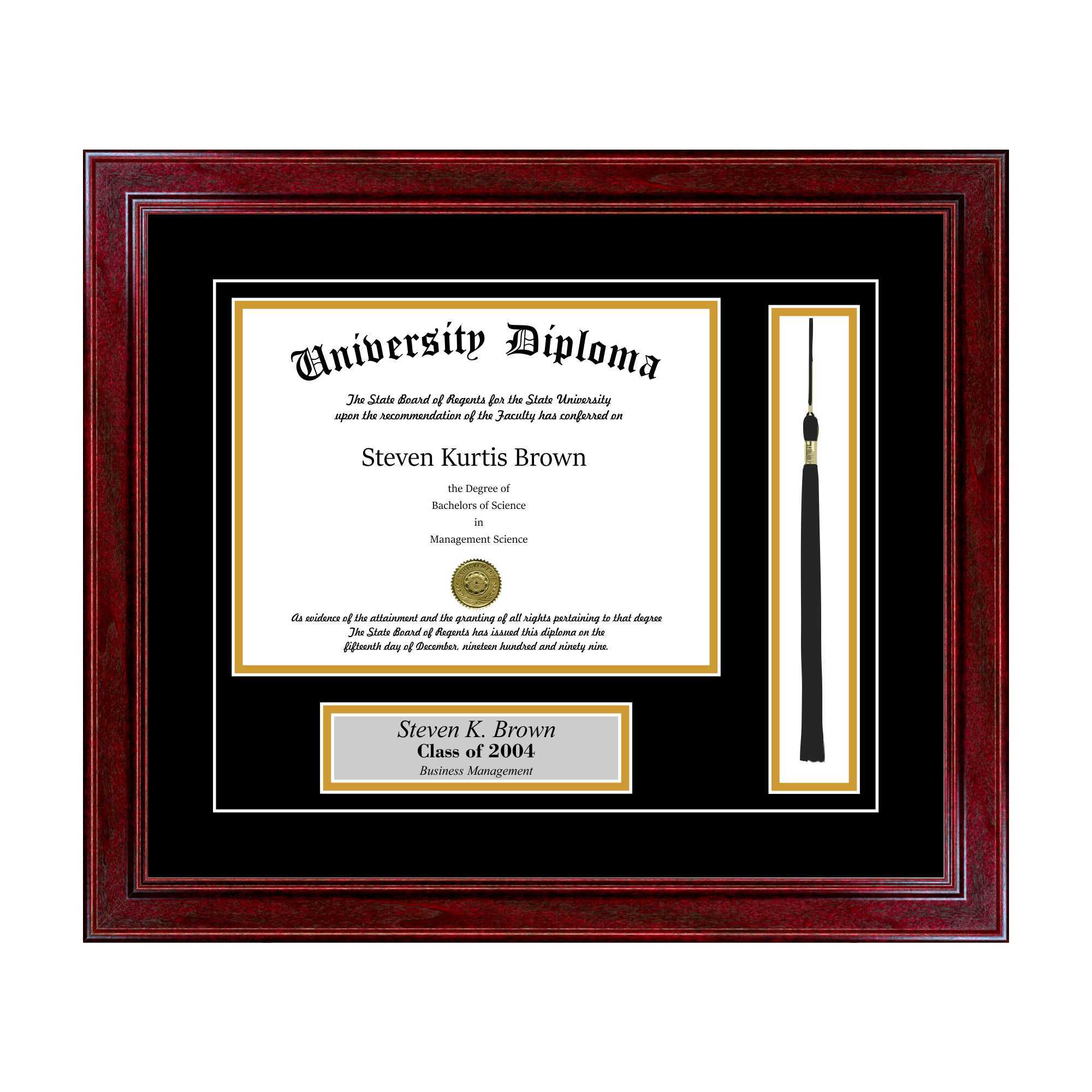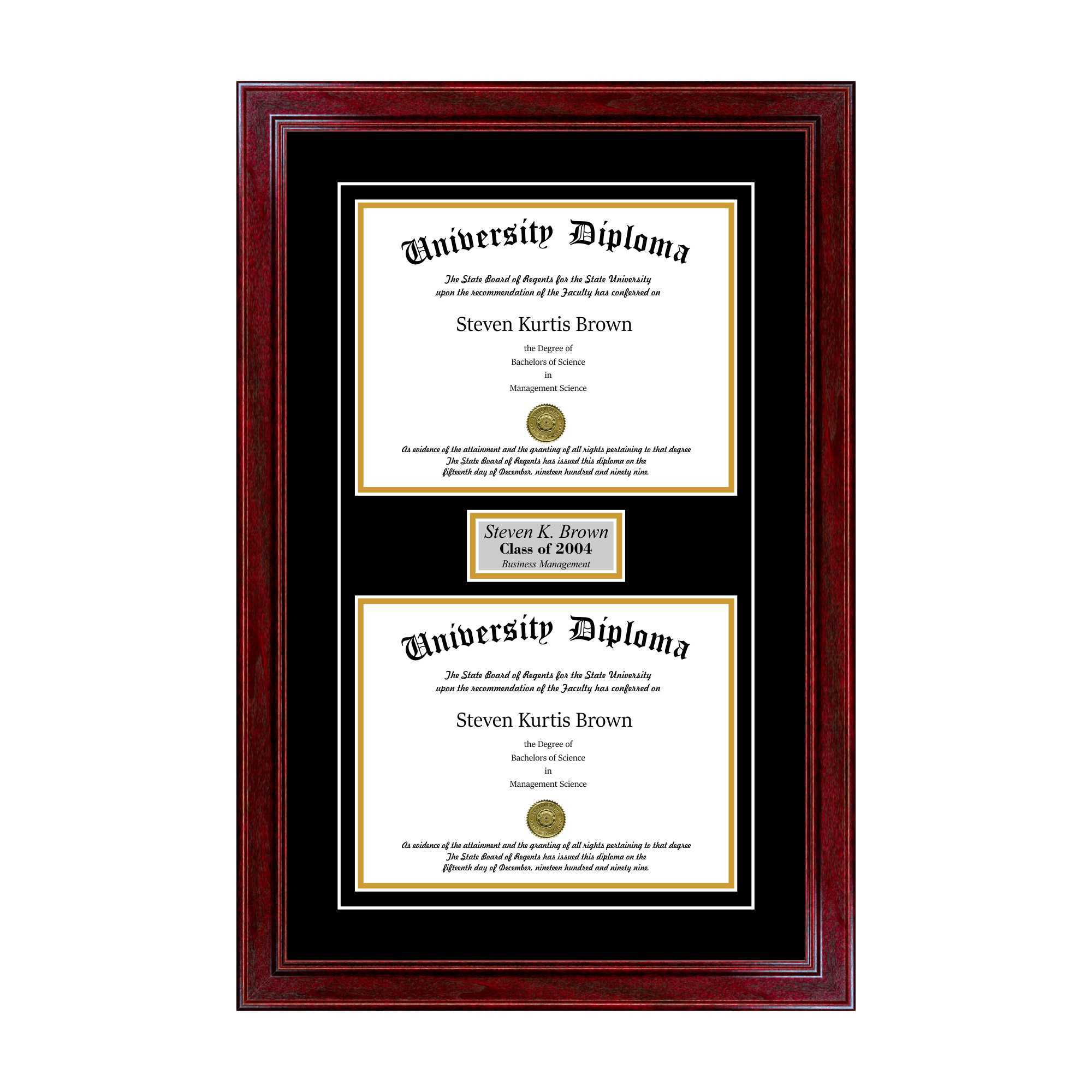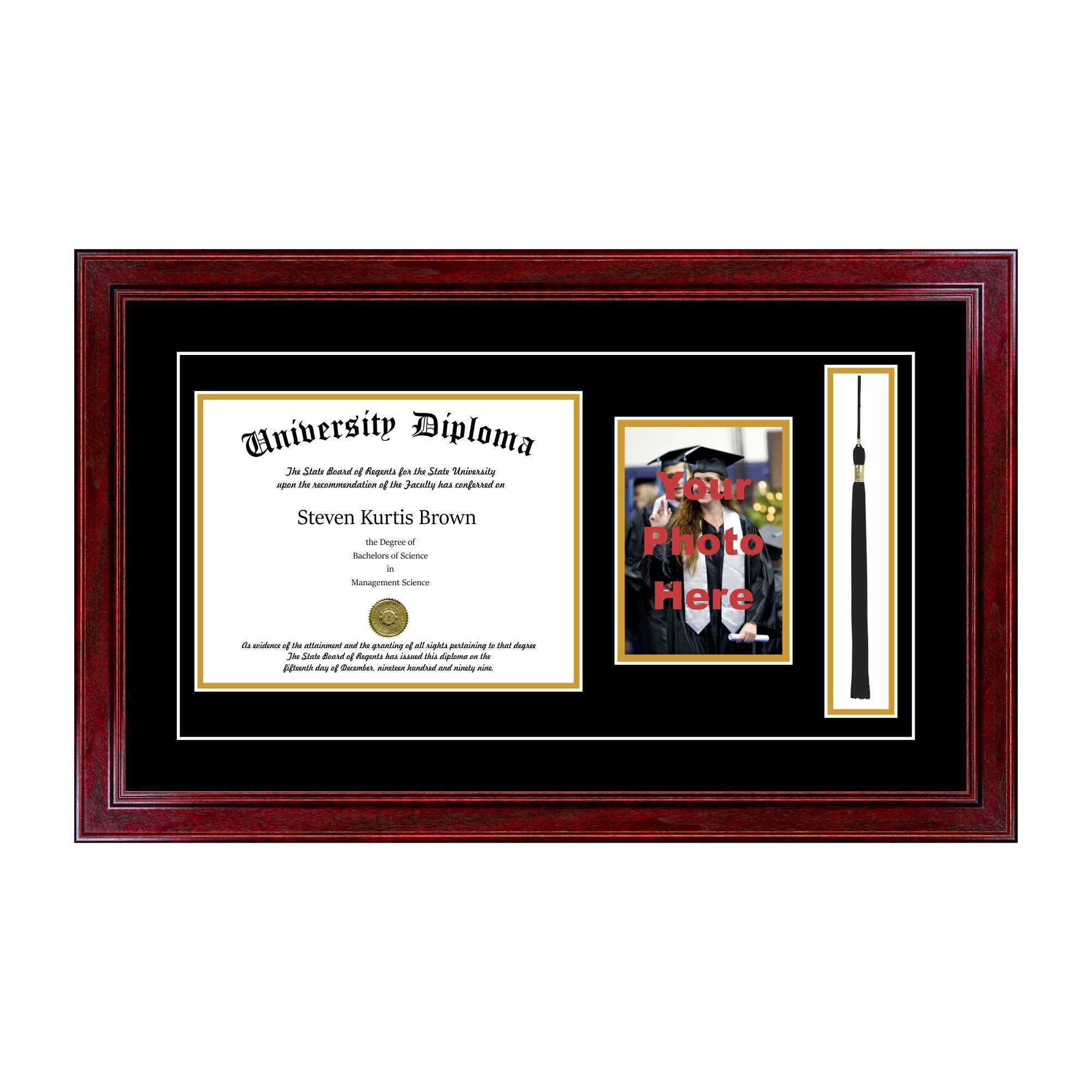 Read what our customers are saying!
"Frame was exactly what i was looking for. Great quality and fantastic service. They were able to expedite a request and ship it to me in a very small time frame. It was very much appreciated and I will definitely use them again in the future."
Michael Tuminello
May 24, 2018
"I was worried about ordering a frame online unseen. What a delightful surprise!! The frame was beautiful and exceeded my expectations. I would highly recommmend to anyone."
Lona Bryan
Oct 11, 2018
"I have added a photo to the double frame on the top and I will give it to my daughter for graduation. I am very happy with the way it looks"
sandra
Sep 6, 2018
"Great quality for the price. Everywhere else we looked the double degree frames were so expensive. These look great in the office. I definitely recommend purchasing from this site."
Tania Galvan-Jimenez
Aug 27, 2018
"Better than expected. It was purchased as a gift and the recipient was thrilled with it. Exact school colors, cleanly cut mat, Beautifully finished frame."
Ronald Skibin
Jun 19, 2018
"Looks much better in person vs. Viewing on my cell phone. Love the color choices. Excellent quality. Degree fits perfectly. Fast delivery. No damage to the glass. Excellent packing. Will recommend to others."
Lamont Briggs
Jun 16, 2018
"I love the frame. My daughter was really excited when she opened it. The engraving added the perfect touch. I will be getting more in the future."
Danielle Peterson
May 18, 2018
"I would recommend for anyone, well made, solid, and well designed!"
Moses Guzman
Jun 18, 2018
"My diploma is really big so it helps a lots that this frame has multiple choices of size. The product is very well-done just as same as described. Love it!"
Szuning Liao
Jul 3, 2018
"Beautiful frame, very well made. Exactly what I was hoping for"
Jana Schott
May 29, 2018
Affordable Diploma Frames
---
Whether you're displaying a diploma or you want a case to keep your collectibles protected, Perfect Cases and Frames has high-quality products for you. Our cases are made from high-quality glass, and everything we sell is made to order in the USA.
High Standards from Perfect Cases and Frames
---
---
Along with different frame layouts and hardwood molding finishes, you can also choose from a variety of colors for your inner and outer matboards. You can pick colors that closely match your institution's logo colors, or go with neutrals to compliment your hardwood molding. Choose from mahogany, classic cherry, walnut, black, and other hardwood framing choices.
We also provide different grades of glass protection from standard glass to anti-reflective UltraVue glass and museum-quality protection. Get the perfect fit with a variety of frame sizes. A custom display frame is perfect for a new graduate to congratulate them, or showcase your own hard work.